Chains anticipate new growth in generic drugs' market share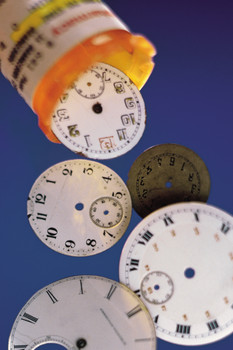 NEW YORK -- Patents on 200 drugs exceeding $30 billion in annual sales will expire over the next five years and potentially shift substantial script volume from brands to generics.
More than a few blockbusters are coming into play: Astra Zeneca's Prilosec, Merck's Mevacor, Lilly's Prozac, Schering-Plough's Claritin, Bristol-Myers Squibbs' Pravachol and Pfizer's Zithromax, according to the FDA Orange Book and USB Warburg estimates.
If all goes according to plan, generics' share of units dispensed could soar to 50 percent within the next two years, up from the 42 percent level where it's stagnated since 1996, predicts Tony DeNicola, president, A and D Associates, a consulting firm based here.
That could bring a tremendous boost to retailers, who today "have just 10 percent of their wholesale cost in generics. It would be very nice for pharmacies to dispense more generics. Margins would go up and inventory cost would go down," he added. "Professional fees are the same whether they dispense brands or generics, but there's clearly more juice for retailers in generics. They can shop hard for different sources and create profit opportunities on the buy."
Jack Fruth, chairman and chief executive of the Fruth Pharmacy chain in Point Pleasant, W.Va., agreed: "If I dispense a generic that costs me $10 and I earn a slight profit on that plus the dispensing fee, then I dispense a brand name which costs me $100, on which I earn the same slight profit and dispensing fee, which should I prefer? It's clear. I want to make $6 on a $10 investment instead of $6 on a $100 investment."
The profit challenge for retailers is even more complex when figuring in operating costs, suggested Kurt Proctor, senior vice president of pharmacy policy and operations at the National Association of Chain Drug Stores. "The cost of the prescription drug itself has very little to do with the cost of providing professional services at the pharmacy. It's not correct to think of pharmacy margins in terms of percentages on product cost. Retailers need margin dollars to cover their costs of dispensing because margin dollars pay for pharmacist salaries, the computers, the vials," he said "If it costs me $7 to dispense a prescription, it doesn't matter if the product costs me 25 cents or $100. I still have to cover those costs."
All of which places even more pressure on pharmacies to manage their limited resources well.
"Pharmacies have been forced from several sides to favor generics--by a public who in many cases can't afford the brands, by insurers, the government and third party administrators who dictate in their plans that you have to dispense generics, and by our own profitability concerns," injected Fruth. "We want to see patents go off as quickly as possible. I personally wouldn't feel so bad about it if the brand-name manufacturers made a lot of money on new drugs they bring out ... but they escalate prices not only on new drugs they discover, but also on old drugs. We also don't like the preferential pricing which brands give to mail order and third party programs, because they're unavailable to us. They shift pricing so they can control market share. That causes a lot of resentment by chains."
Clearly, retailers are caught in a cash squeeze, needing to fund their ever-rising inventories in branded pharmaceuticals while typically waiting a month or more for third party payments.
Mounting cost of R&D
In defense of brands, the Pharmaceutical Research and Manufacturers of America cites more than $26 billion in research and development spending by its member companies in 2000 to develop new cures for disease, up 10 percent from the prior year. That aggregate figure represents more than 20 percent of those companies revenues, an R&D-to-revenues ratio that exceeds most industries in the United States.
The manufacturers themselves benefit greatly from their investment in innovation, however. "Drug company profits as a percentage of revenue were slightly over 18 percent in 1999, while for other Fortune 500 firms' profits were under 5 percent," concluded an analysis by the nonprofit, non-partisan National Institute for Health Care Management Foundation, called "Prescription Drugs and Intellectual Property Protection, Finding the Right Balance Between Access and Innovation."
"The public health depends, in large part, on drug innovation," stated PhRMA president Alan Holmer when the report came out last summer. "Pharmaceutical companies have less time than other industries to recoup their huge R&D costs-- an average of $500 million per drug. Without innovative medicines to copy, the generic industry wouldn't exist."
For all that, NACDSs' Proctor said: "Brand manufacturers are due appropriate patent protections. But when they've expired, we're anxious for generics that bring competition to the general marketplace. We advocate the proper use of generics when available and medically appropriate. They're a very important part of keeping expenditures on prescription drugs under control.
"Public policy and payment systems need to encourage the use of generics, while incentivizing brands for research," he added. "We can't overreact to the brands screaming about their research spending [as justificaton for high prices]. If they kill research, they kill the golden goose. They won't do that."
Moreover, Proctor noted that generic substitution rates at community pharmacies "are significantly higher than mail order or other practice settings (trade sources cite a 35 percent to 70 percent rate, depending on the drug and how new the generic is). That's where the savings are for third parties, in what's dispensed rather than trying to save a nickel on a dispensing fee. It's very easy for mail order companies to put together a presentation of savings for payers, but payers have to look beyond that at generic substitution rates."
Turning to the courts for protection
To stem the tide of generic substitution and protect their innovative drugs for years beyond scheduled patent expirations, branded pharmaceutical manufacturers have employed a remarkably effective array of marketing and legal strategies.
So it would be naive to expect the current crop of expiring blockbusters to slip quietly into the night. After all, a billion-dollar seller that's protected for an extra six months covers a lot of fees for lawyers and lobbyists.
Consider the brands' impressive arsenal of competitive tools: lawsuits, new patents and new indications filings, adding time-release formulas to immediate-release medicines, manufacturing generics themselves, grassroots publicity campaigns against generics and lobbying for legislation state-by-state to inhibit competition from bioequivalent generic pharmaceuticals.
All have been more or less popular over the past decade as ways to buy six months, 30 months or more of exclusivity for a brand, depending on the strategy.
The current spate of lawsuits indicates high stakes for brand and generic manufacturers. Among them:
* Glaxo-SmithKline has filed a complaint against Apotex Corp. which could prevent Apotex from launching the generic version of Paxil, the blockbuster antidepressant, until July 2003. Paxil sells $1.3 billion annually. Apotex president Tammy McIntire called this "an unprecedented abuse of the Hatch-Waxman Act's provisions in order to block the marketing of a far-less-costly generic version ... [which] prevents millions of patients and their families from accessing this affordable alternative."
* Schering-Plough has sued Impax Laboratories for alleged patent infringement over Claritin, its blockbuster allergy drug, which sells $400 million a year. Impax said the suit was related to its November 2000 filing to the U.S. Food and Drug Aministration for a new drug application for Claritin.
* A federal court has summarily dismissed Bristol-Myers Squibb's patent infringement suit against Par Pharmaceutical, related to Par's ANDA filing for a generic version of Megace Oral Suspension, which sells about $150 million annually. The drug treats unexplained weight loss in patients diagnosed with acquired immune deficiency syndrome.
* Watson Pharmaceuticals and Mylan Laboratories each filed separate suits against the FDA in attempts to gain clearance to market generic versions of BuSpar, Bristol-Myers Squibb's anti-anxiety drug which sells more than $700 million per year.
* Ivax Pharmaceuticals, formerly known as Zenith Goldline Pharmaceuticals, finally won six months exclusivity to market a generic version of Taxol, a Bristol-Myers Squibb treatment for breast and ovarian cancer which had sold at a $1.2 billion annual rate. "We were finally able to market in October 2000--10 months after we expected--and by the end of calendar 2000 we'd already sold $35 million worth of the drug," said director of marketing Jeff Hampton. A single vial of the generic sells for $1,240 compared with BMS's price in excess of $1,400.