GSK packages enhance the interaction between patient and product: GSK's packaging upgrades run the gamut of products and range from simple to enormously complex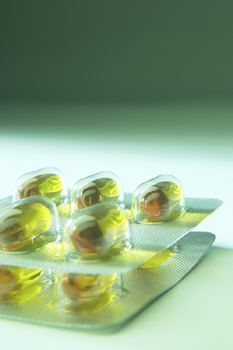 In the last year, GlaxoSmithKline has used packaging to strengthen new and established products, both over-the-counter (consumer) and prescription (trade). Designed to improve the experience for the user, the packaging innovations range from a blister book to a convenient dispensing system for discreet blister packs for an HIV combination therapy. Here are some of GSK's most recent package innovations:
Panadol Compack
This wallet-like package, distributed in the UK, combines protective blisters with extensive product information in a slim, compact format.
Stylish and portable, the Compack comprises two interior "pages" of blisters consisting of foil laminated to rigid plastic. The rigid portions of the blisters are laid out back-to-back and staggered so that they interlock when the wallet is closed, adding structural integrity.
The inside "covers" contain product information. Introduced in Oct. 2004, the 14- and 16-count packages retail for US$3.86 to $4.83.
Imitrex
The formulation of this migraine medication was changed recently, allowing it to be absorbed into the bloodstream faster. This made the medicine more moisture-sensitive, requiring an improved moisture barrier in the blister packaging material. (Imitrex has been packaged in blisters throughout its nine-year history to enhance its portability.)
To get the needed moisture barrier, GSK switched to an aluminum laminated cold-form blister material, supplied by Alcan. One of the biggest challenges proved to be meeting the child-resistance requirements--a tooth puncture counts as an "opening" even though a child doesn't get to the pill. The package had to be hard for children to get into but easy enough for older consumers or people in the midst of a migraine attack, which can rob the ability to focus.
A new version of the Imitrex package is now making its way through the marketplace and features easier access combined with child resistance. GSK prints easy-to-follow opening instructions for adults on a trifold blister card, which doubles as a child-resistant feature.
Panadol
This acetaminophen-based pain reliever is the most popular of its kind in the world--so popular that GSK has to deter counterfeiting. A new blister lidding film from The Paper Products Ltd. uses a unique holographic design to prevent counterfeiting.
This development won the top Diamond Award in the 2004 DuPont Awards for Innovation in Packaging.
Lamictal
This epilepsy medication needs to be "titrated"--that is, the dosage must be adjusted through trial for each patient. GSK needed to develop a physician's sample package that would facilitate the titration process.
GSK's first effort was functional but not helpful enough for patient compliance. Doctors and patients asked for more guidance on titration.
In conjunction with Caraustar Industries, GSK developed a four-panel glued foldout card that shows exactly how much medicine to take on which day. It includes a pocket for an instructional insert, and a blank space for the doctor's written directions.
"Not only did it accomplish everything we wanted, it reduced our cost of goods substantially. It allowed the supplier to do a better job and reduce their cost of operation," says D. Bruce Cohen, director, North America packaging technology. "It allowed us to put a better sample kit into the patients' hands."
Trizivir
It's absolutely vital that this medication for treatment of HIV/AIDS be taken on a regular schedule, without missing a dose. The Trivizir Convenience Pack, introduced last April, contains 60 tablets (a 30-day supply) in blister strips on a tear-off roll housed in a paperboard carton.
"Taking an HIV regimen can be challenging, but is crucial in managing the virus," says Doug Manion, vice president of clinical development and medical affairs. "We know how important it is to do all we can to make taking HIV drugs easier for patients."
One of the biggest challenges was getting a long strip of blisters, with perforations, to roll up and fit inside the carton without separating at the perfs. At present, the cartons are hand-packed by Sharp, although GSK will look into automation if demand warrants. Other features include a dispenser at the top of the carton, a warning card (required by the FDA) printed by Arlington Press and days of the week printed on the carton to serve as a "counter." The Trizivir dispensing carton has also been named our Package of the Year in the Pharmaceutical category (see p.52).
Nicorette/NicoDerm
Nicorette gum and NicoDerm patches deliver controlled doses of nicotine to persons who are trying to quit smoking. When they went from prescription to OTC status, and were joined by Commit lozenges, it presented a new set of packaging challenges.
One of the biggest was clear communication with consumers on how to use these smoking cessation aids. Nicotine delivery systems have dosing regimens and contraindications that can become very complex, in part because consumers vary considerably in their nicotine dependency. GSK included CDs in the packages that spell out how to use the product, with pictograms.
"It's important that we are very clear in the messages that we give," Dunn says. "Any graphics that we use to facilitate the use of the product should show that it's easy to use and easy to understand. People like to say it's intuitive, but things like this just aren't intuitive. So we have to make it so people feel like it's intuitive."
Disposal of the NicoDerm patches was another potential snag. "One of the things that we had discussions with the FDA was that, there could be residual nicotine in the patches. What if a child gets it and starts chewing on it?" says Ed Dunn, associate director of packaging development for consumer brands. "The tray is actually a child-resistant disposable tray. We have a reservoir that you can put the patches in and they don't come back out."
Abreva
This OTC cold-sore medication comes in a tiny, 2-gram tube in a plastic carton. GSK had put electronic article surveillance (EAS) tags on the cartons, but shoplifters were cir cumventing that by simply removing the tube from the carton. GSK switched to a solvent-based glue for the carton that makes a destructive seal, discouraging illegitimate removal of the tube. If thieves still try to steal the product by taking the whole carton, the inner EAS tag will sound the alarm.
Turns
This antacid is one of GSK's iconic OTC brands and has a distinctive bottle shape. Like many branded OTC medicines, it has been the target of private-label rivals with copycat packaging. On top of that, competitors began adding flip-top closures, which facilitate one-hand entry into their nondescript bottles.
To maintain brand identity, thwart further copycat attempts and one-up the competition, GSK redesigned the Turns package, with side finger grips and a customized flip-top closure.
Aquafresh Floss'N'Cap
It's exactly what it sounds like: a toothpaste tube whose flip-top cap also contains dental floss. To make it work, GSK had to design a cap that would feed out the floss but not interfere with the toothpaste dispensing. GSK had no experience with dental floss, and, in any case, the bobbin, cutter and closure all had to be custom-designed.
There are three sub-assemblies to the Floss'N'Cap, on which different suppliers work in sequence: Peri-dent Ltd., makers of the floss (in the UK); U.S. cap manufacturer Nypro Inc.; and tube supplier Alcan Packaging Cebal Americas. By the time the package gets to the GSK facility, it needs only to be filled with toothpaste.
But this outsourcing created its own challenge: getting the sub-assemblies to come together seamlessly among the cross-Atlantic suppliers. "All the coordination had to occur outside of our manufacturing facilities--that was the real challenge," says Dunn.
The Floss'N'Cap won a silver award in this year's DuPont Awards for Innovation in Packaging.
Aquafresh Extreme Clean
Using a carton made from polyvinyl chloride (PVC) instead of paperboard makes Aquafresh Extreme Clean toothpaste stand out on the crowded shelf, and reinforces the notion of a premium product.
"We even get comments that people keep it in the carton when they have it at home because they like the way it looks," Dunn says.
For more information
Alcan Packaging
502-647-2300;
www.alcanpackaging.com
Alcan Packaging Cebal Americas
203-845-6356;
www.cebalamericas.com
Caraustar
216-281-7651; www.caraustar.com
Nypro Inc.
978-365-9721; www.nypro.com
The Paper Products Ltd.
+91-22-5365772; www.pplpack.com
Peri-dent Ltd.
+44 (01896) 661902;
www.dentalfloss.co.uk
Sharp Corp.
800-892-6197 or 610-279-3550;
www.sharpcorporation.com
Wilden Plastics (USA) L.P.